The Badlands trim stands out as the most capable off-roader in the Bronco Sport lineup. Of the 5 trim levels available – Base, Big Bend, Outer Banks, Badlands and First Edition – the rugged Badlands edition stands out from the rest with its enhanced off-road features.
While it should be said ALL Bronco Sports are more capable in rough terrain than other compact crossovers, the Badlands really takes things to another level.
Here are the specific key differences between the Bronco Sport Badlands and other trim levels:
More Powerful Drivetrain
The Badlands packs a 2.0L EcoBoost 4-cylinder engine underhood producing 250 horsepower and 277 lb-ft of torque. This gives a solid 69 hp increase over the 1.5L engines found in lower Bronco Sport trims. The extra muscle boosts the Badlands's trail performance with stronger acceleration when navigating obstacles or inclines. It also bumps up the max towing capacity by 200 lbs to 2,200 lbs so you can haul ATVs, dirt bikes or other recreational gear out to the trails.
Equipped with a 2.0L EcoBoost 4-cylinder engine producing 250 hp and 277 lb-ft of torque
69 hp increase over 1.5L engine in lower trims
Provides stronger acceleration and towing capacity of 2,200 lbs
Enhanced Off-Road Suspension
Several key upgrades make the Bronco Sport Badlands king of the rocks and ruts. It has an elevated ground clearance of 8.8 inches, a 1.6 inch lift over other models, so you can crest rocks or ford streams without scraping the underbody. The retuned suspension utilizes hydraulic rebound stops to maintain composure over the roughest bumps and drops. Skid plates protect critical components like the fuel tank and transfer case when cresting obstacles.
Raised ground clearance of 8.8″, a 1.6″ increase over other trims
Retuned suspension with hydraulic rebound stops for greater control in rough conditions
Protective steel bash plates shield key components
All-Terrain Wheels and Tires
The Bronco Badlands rolls on 28.5-inch all-terrain tires as standard equipment, with optional 29-inch tires available. The aggressive tread pattern and sturdy sidewalls enhance traction on loose or uneven terrain. The tires are mounted on distinctive 17-inch Carbonized Gray wheels that pop against the exterior while standing up to harsh trails.
Unique 17″ Carbonized Gray wheels are durable in harsh terrain
28.5″ all-terrain tires come standard, with optional 29″ tires available
Aggressive tread pattern and sturdy sidewalls enhance traction
Advanced 4×4 Drive System
To thrive off-road, the Badlands is equipped with Ford's cutting-edge 4×4 system. The two-speed transfer case provides selectable low-range gearing to idle over obstacles at low speed while maintaining ample torque. The segment-exclusive locking rear differential is a key asset, distributing engine power evenly to both rear wheels for enhanced traction.
Two-speed transfer case with selectable low-range gearing
Locking rear differential improves traction by distributing equal power to both rear wheels
Trail Control maintains set low off-road speed between 1-5 mph, allowing driver to focus on steering
Exclusive GOAT Modes
The Badlands comes prepared with innovative tech to tackle off-road driving scenarios. Trail Control takes the stress out of low-speed rock crawling by controlling acceleration and braking between 1-5 mph. GOAT modes tailor throttle input, shifting and traction control for optimal performance on mud, ruts, sand and rocks. The available wraparound camera enhances visibility on tight trails.
"Goes Over Any Type of Terrain" modes optimize driving for different surfaces
Mud/Ruts, Sand, and Rock Crawl modes fine-tune throttle input, transmission shifting, and traction control
Rugged Exterior Styling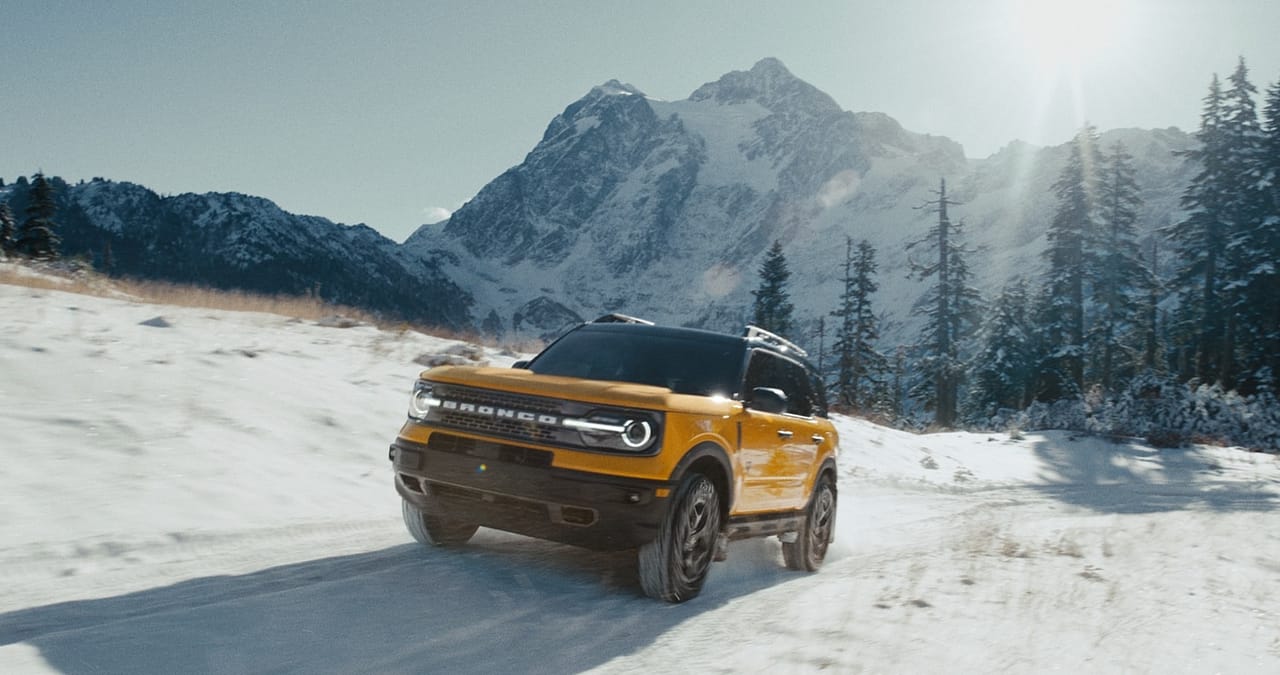 The Carbonized Gray exterior accents and steel bash plate convey rugged durability. Redesigned front and rear fascias improve the approach and departure angles. Washable rubber floors and seats make cleaning up after muddy treks a breeze.
Unique front and rear fascias enhance approach and departure angles
Steel front bash plate and skid plates protect radiator and underbody
Carbonized Gray accents on grille, roof, and wheels boost rugged look
Rubberized washable floors and seats make cleaning mud and debris easy
What are the downsides to the Bronco Sport Badlands?
Based on everything above, it might seem like the Badlands completely dominates the other trim levels in every way. However, there a few downsides that are worth considering. The off-road centered design isn't necessarily the best choice for everyone:
Ride Quality – The off-road optimized suspension on the Badlands prioritizes capability over comfort on pavement. The ride may feel stiffer and rougher, especially with the larger all-terrain tires.
Fuel Economy – The more powerful 2.0L engine and heavier duty components hurt fuel efficiency compared to the 1.5L engine on lower trims. Expect lower MPG, especially for city driving.
Weight – The Badlands weighs around 250-300 lbs more than other trims due to the beefed up components. This can affect acceleration and handling.
Cost – As the top-tier Bronco Sport trim, the Badlands has a higher MSRP. You'll pay more upfront for the specialized off-road upgrades.
Limited Color Options – Only four exterior color choices are offered on the Badlands, giving you less flexibility to customize the look.
Reduced Interior Space – The rear cargo area is a bit smaller on the Badlands compared to other trims due to the full-size spare tire.
Limited Automatic Emergency Braking – The standard AEB system on the Badlands is restricted at higher off-road speeds to avoid unwanted activation.
Wheel Size – Smaller 17″ wheels may provide less of a smooth street ride compared to 18″ options on lower trims.
---
Summing up, the Bronco Sport Badlands unquestionably delivers robust off-road performance for its class. As the most adventure-ready model however, it isn't without a few tradeoffs that might make the Base, Big Bend or Outer Banks trims more livable.