The Ford Transit van is renowned for its ruggedness, durability, and dependability. Between delivery drivers, mobile technicians and countless other trades, the van is a highly adaptable workhorse.
The floor of a Transit van sees a lot more action than passenger vehicles, which makes a good set of floor mats a wise investment. Besides protecting the interior of the van from dirt, debris, spills, and stains, the mats will also provide grip and traction, helping to prevent any slipping or sliding around the cabin.
Here are some of our favorite rugged floor mats for the Ford Transit Van (2014+)
Husky Weatherbeater Floor Liners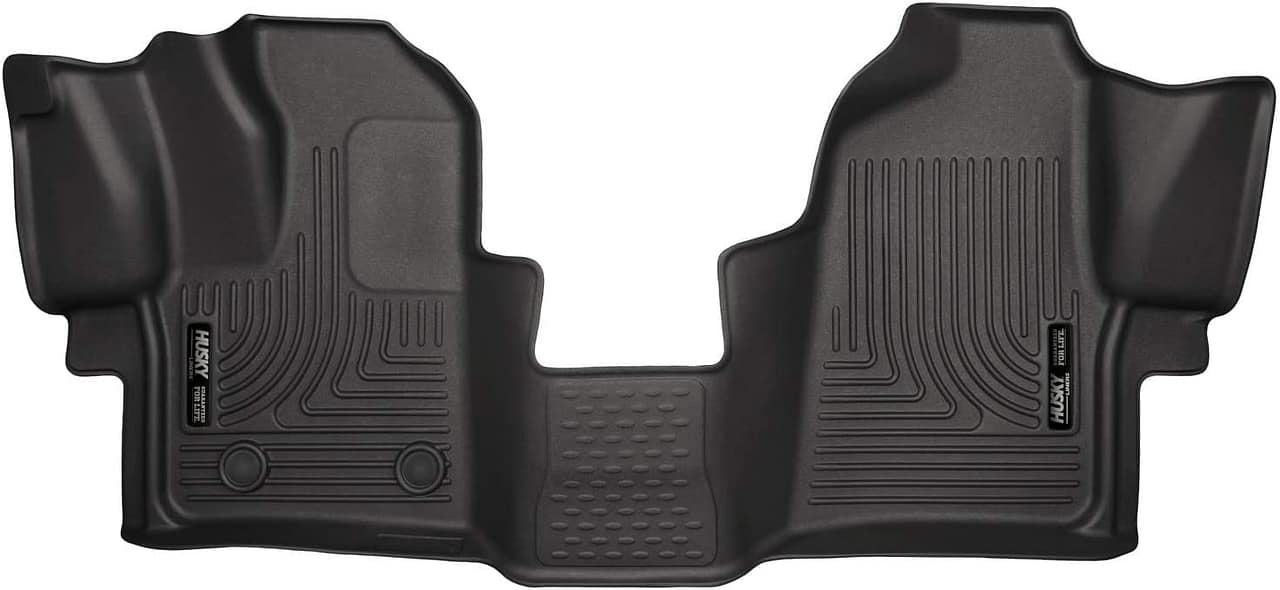 The Husky Weatherbeater Floor Liners are custom-fit mats designed especially for the 4th generation Ford Transit Cargo Van. They are made from a rubberized co-polymer that is designed to be strong, flexible, and durable (just like the Transit ;)). They're specifically cut to fit across the front passenger floor well and feature a cupped design that prevents water, dirt, and other debris from getting onto the van's interior.
Husky Weatherbeater floor liners also use the Transit's factory retention posts, to the mats won't slip around when stepped on.
WeatherTech Ford Transit FloorLiner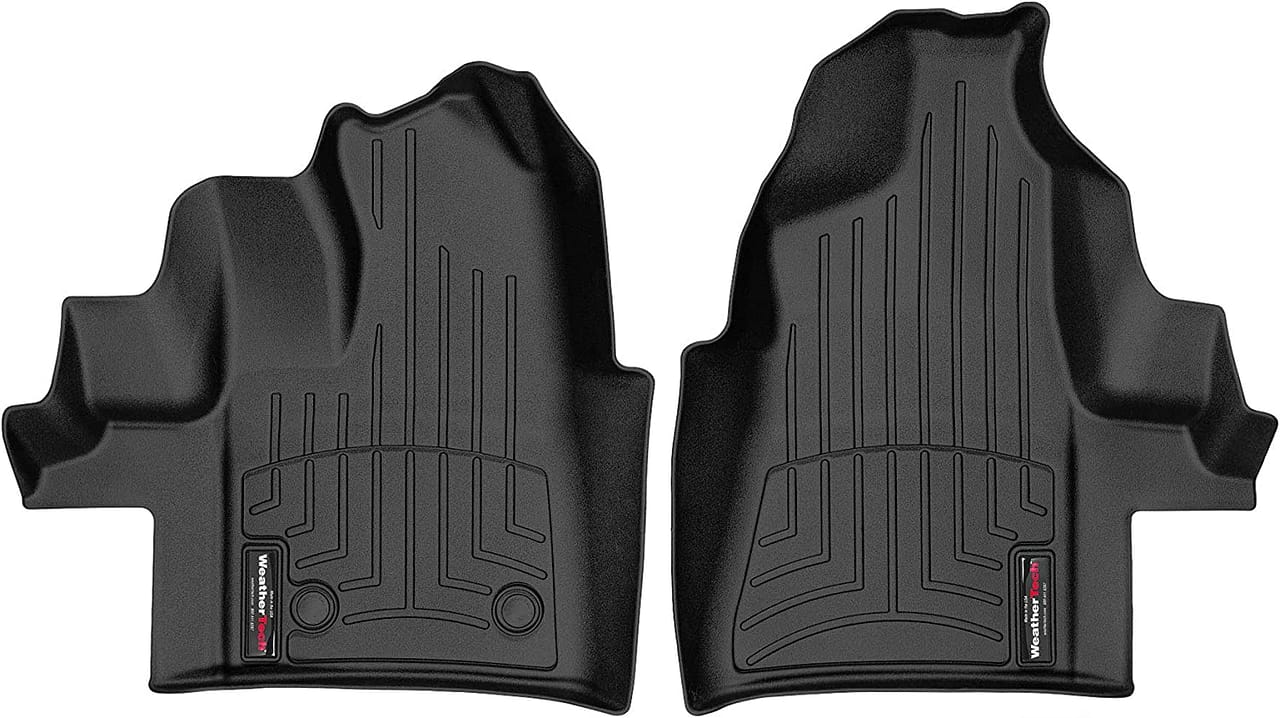 If you're looking for top-of-the-line protection for your Ford Transit Van, these custom cut WeatherTech Floor Mats are the way to go. Laser-measured for a perfect fit, these mats are designed to trap and contain spills, debris and dirt to keep your interior looking like new.
Unlike other single body floor mats, this set uses two separate pieces, which make it easier to remove them from the van. Also note that these floor liners are designed specifically for Transit models with carpet (not vinyl).
The price may be higher, but they're one of the few liners made in the USA.
SmartLiner First Row Ford Transit Floor Mats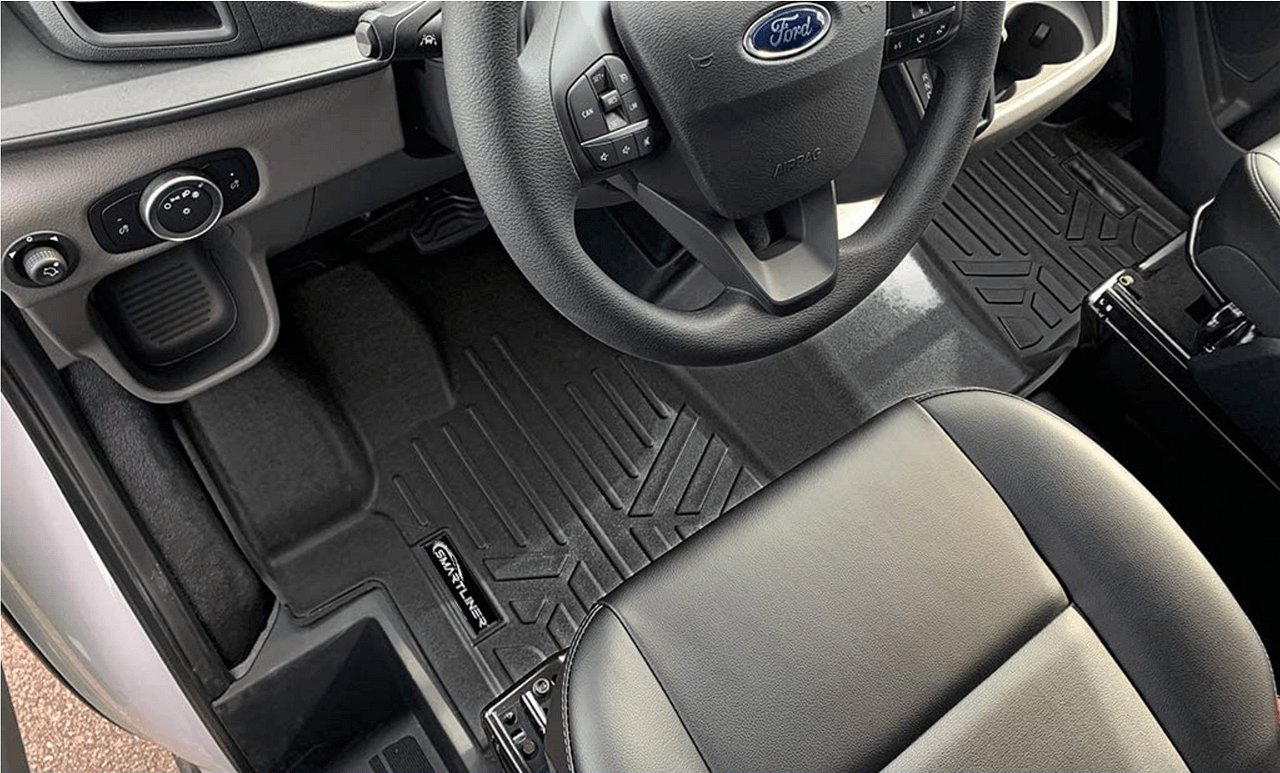 The SmartLiner floor mats are designed specifically for the Ford Transit van WITH vinyl flooring. Like all our rugged options on this list, these mats built to be hosed off for easy cleaning. They are designed to fit perfectly around the retention posts and feature deep channels to catch and trap spills, debris, and dirt.
Some floor mats can have a rubbery, chemical smell when they're new, but SmartLiner states their mats are 100% odorless thanks to a blend of recyclable plastic-rubber and polyethylene material.
BedRug VanTred for Ford Transit 250/350
While not a floor mat in the traditional sense, the BedRug VanTred is a heavy-duty and durable floor mat built for the cargo area of the Transit van. It's made of semi-rigid foam that's been laminated with an industrial-grade vinyl resistant to gas, oil, chemicals, bleach, and battery acid plus it's completely waterproof.
---
No matter which of these floor mats you decide to invest in, you can feel confident knowing your Ford Transit Van is well-protected from the dirt and debris of everyday use.